Service is our Business. Heat Exchangers are our Product.
Two Zone Heat Exchangers
FOR VACUUM SOAP DRYERS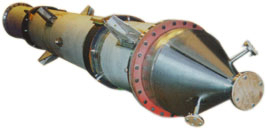 Would you like to restore your aging soap dryer's throughput to its original designed rate or possibly increase its throughput as much as 100% above the designed rate and reduce labor and utility costs? Would you like to stabilize the moisture level in your dried soap; thereby improving finishing line efficiency?
We can help you do all of that by reviewing your dryer system (heat transfer vacuum system, dust recuperation, piping configuration, control scheme, adequacy of steam and tower water supply) and propose improvements based on sound operation and engineering principles.
We can also provide you with a unique heat exchanger, specifically designed for soap dryers. This shell and tube exchanger consists of two zones.
In the first zone the neat soap is heated at a set steam pressure to achieve turbulence.
In the second zone the steam pressure is controlled to meet final moisture specification. Controlling the steam pressure in this zone, where the rate of heat transfer is at the maximum, will reduce response time to moisture variations and consequently will improve moisture control.
Based on field data, a 50% reduction in pressure drop was realized between the spray nozzle and the feed pump when a three exchanger system was replaced with our unit. Therefore, the feed rate can be increased using the existing pump.
The exchanger is equipped with an internal distribution cone on the inlet side, which flattens velocity profile across the tubes. This feature prevents plugging of the outer tubes.