Service is our Business. Heat Exchangers are our Product.
Transition / Duct Helical Finned Heat Exchangers
The transition heat exchanger with alloy and Hastelloy materials is excellent for product purity and corrosive service applications.
Industries Served:
Chemical
Pulp & Paper
Pharmaceutical
Refinery
Applications:
Low Pressure Air/Process Gas Cooling
Low Pressure Air/Process Gas Heating
Heat Recovery
Environmental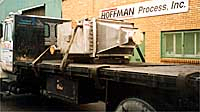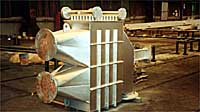 Hoffman Process, Inc. designs and provides transition type finned tube heat exchangers for Air/Gas applications where pressure drop and space are critical. Gas is directed across a bank of finned tubes that provide up to 25 times the bare tube heat transfer surface area. By proper design, pressure drop may be limited to a few inches of water column or less. Air/gas temperatures to 1500°F can be processed with proper selection of the fin and tube materials, and method of bonding the fin to the tube.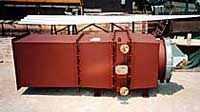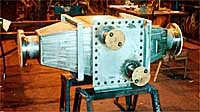 Various design arrangements are available including:
Removable bundle for inspection and cleaning
Non-removable bundle for clean and non-corrosive service
Horizontal Air/Gas flow
Vertical Air/Gas flow, either up or down flow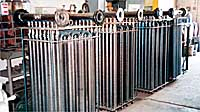 Hoffman provides thermal design with process guarantee using in-house software; mechanical designs for the bundle are per ASME Code and API 661 Standards.